50 BUSINESS IDEAS
FOR THE NEW AGE ENTREPRENEUR
SIGN UP TO GET
FREE INSTANT ACCESS
50 Business Ideas For The New Age Entrepreneur
50 Business ideas that can help you start a business today.
50 business ideas that are easy to start, require less investment and has a potential customer base

Each idea solves a problem or provides a solution to a problem that people will be willing to pay.

Every idea is listed with the approximately required investment, other requirements, and scalability of the business idea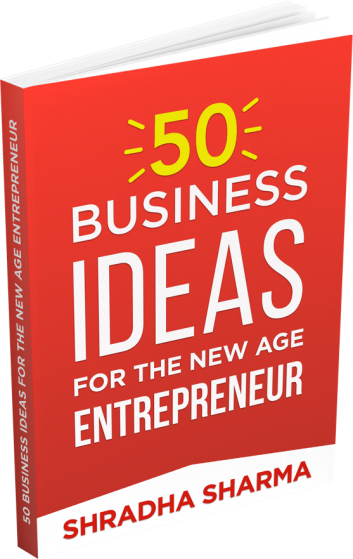 Want to start your own business, but wondering where to start? Which idea to pursue? How much will you need to invest? Will there be customers?
Your search ends here.
We have compiled 50 business ideas you can start today, without much investment, and will surely bring you success.
It's not a mere collection of ideas. With each idea, you'll learn what the requirements are, how much investment is approximately required and is the scalable or not.
This isn't a collection of random ideas. Each one of the ideas is carefully considered in three aspects - ease of starting/implementing the idea, the investment required, and potential customer base.
Solving a customer problem and providing a solution that a customer will want to buy is the critical requirement for any successful business. And each idea presented in this book adheres to that rule.
All you need is to download the ebook, pick your idea, and start your entrepreneurship journey.

It all starts with the right idea. But choosing the right idea is the most challenging task for most, and that's the one stopping people from starting their business. That's why we have collected 50 business ideas you can start today with minimal investment and other requirements.
© 2019 YourStory - All Rights Reserved